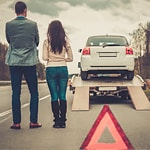 You just crashed your vehicle in some form, and now you're sitting on the side of the road wondering what to do. Let us here at Honolulu Volkswagen walk you through the next few moments. You need to take the proper steps to ensure that you're ok, and you want to make sure that your vehicle will be taken care of.
Take a look at yourself and the other people involved in the accident. You need to determine if there are any injuries that need to be addressed. Call the police so they can come to the scene. They will need to interview both parties and compile a police report. Your insurance company will want a copy of this, and you may need this if there will be a future lawsuit.
Call your insurance provider to let them know what just happened.