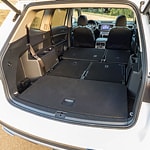 While the reasons for buying an SUV are often many, we here at Honolulu Volkswagen would like to hone in on a couple of special benefits that SUVs offer that other vehicle body types may not.
1. Space: Tired of cramming everybody, and everything, into your small-sized sedan? If so, you may need an upgrade. SUVs are great for carting everyone where they need to go in one fell swoop.

2. Handling: Now that you've got everyone packed in, you're going to want to keep everyone safe, especially when fierce weather is at hand. No worries, though. If you've got an SUV, you can likely bet that it offers superior handling abilities, especially if your model offers four wheel drive or all-speed traction control.
All in all, it is up to you to decide which vehicle body type is best for you. Having said that, an SUV is a great pick for families, singles, couples and pretty much any and everyone needing a little extra space for the things they love. Check one out and take it for a test drive, today!