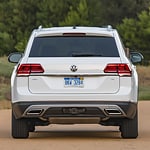 The Volkswagen Atlas is a sports utility vehicle that can tow up to 5,000 pounds. It can also get up to 20 MPG. Not only is this a vehicle that is great on gas and can be used for towing, but it also comes with the latest technology features. This vehicle has remote start.
The feature will make your life a lot more convenient because you will be able to start your car from the comfort of your own home. It works when it is cold or hot outside. This vehicle also comes with the Fender Premier Audio System.
You will be able to enjoy your favorite music as you ride down the road. This feature also has third-row speakers. Your guests will also be able to enjoy the music with enhanced sound. If you are interested in test driving the vehicle and enjoying the technology features, then you can contact the dealership.