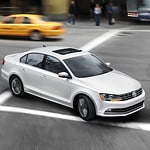 Driver-assist technology features give you the confidence you need to stay safe on the road. The Volkswagen Jetta has a suite of driver-assist features to help keep you in control while driving. We can demonstrate all these features when you visit Honolulu Volkswagen and take a Volkswagen Jetta out for a test drive.
The Jetta has an adaptive cruise control system to help keep you at a safe speed and distance from the vehicle in front of you. The blind-spot monitoring system alerts you if a vehicle is in your blind spot when you attempt to change lanes. Other driver-assist technologies include:
• Rear traffic alert technology
• Lane-keeping assist technology
• Forward collision warning technology
The Jetta also has a rigid safety cage with front and rear crumple zones. These crumple zones can absorb the energy of a collision. This safety cage can also disperse the force of a collision away from you and your passengers.