All About the New Volkswagen ID.4
Electric vehicles are changing the way we commute for the better. Volkswagen makes some extremely impressive new vehicles, and its new EV is an excellent example of that quality. The new Volkswagen ID.4 is here and ready to exceed your every expectation. Here is just a bit about what it brings to the table.
Electric Range and Charging
Range is how far your electric SUV can take you on a single charge. The new VW ID.4 will outperform many competitors in this category. Depending on the model or configuration you choose, you can have an EPA estimated range of up to 275 miles. That is plenty of power to handle your daily commute and then some.
Charging is another change you should expect when shopping for your first electric vehicle. The new Volkswagen ID.4 will make that step easier to take with its impressive systems. Customers can expect a reliable charging system to come with this new SUV that can install right in their garages. There is also a growing infrastructure of public charging stations that will make your next weekend's adventure very doable.
Performance
Not only is the new Volkswagen ID.4 efficient and innovative, but it is powerful as well. The electric powertrain gives you instant torque, ensuring that you have an exciting drive no matter where you are heading. This means that you will have a snappier acceleration than you are used to with combustion engines.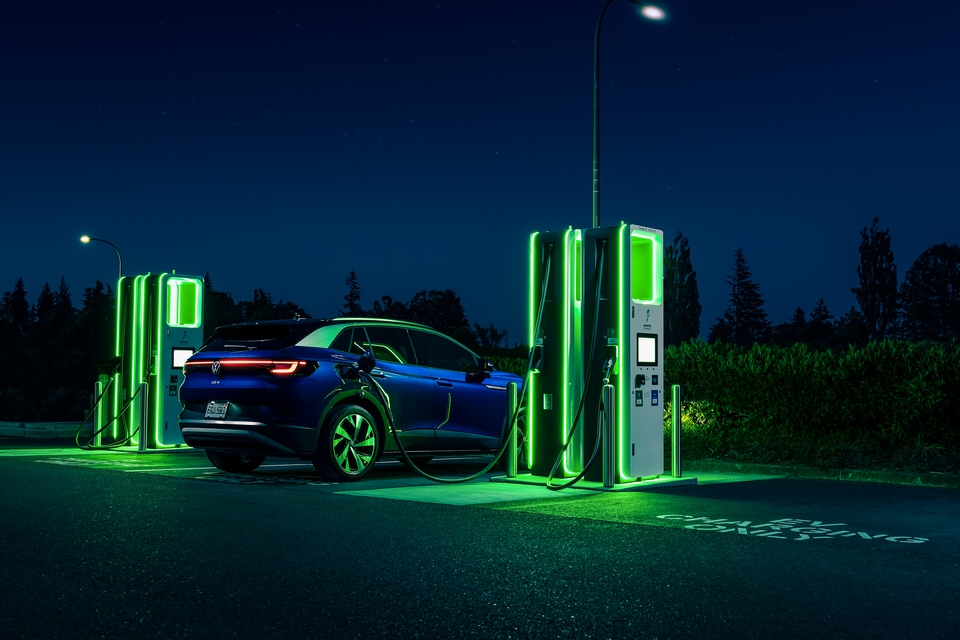 The new VW ID.4 can also bring all-wheel-drive to the table. This available system allows you to have more traction during your adventure and more confidence through inclement weather. The addition of the second electric motor also helps further the acceleration and handling of this beloved SUV.
Interior
As soon as you sit behind the wheel of a new Volkswagen ID.4, you are going to feel the quality that has gone into its design. The entire cabin is covered with premium materials and fine accents. Customers can expect a modern feel throughout the new VW ID.4 that matches the innovative powertrain. From available massaging features to leatherette seats, there is nothing not to love.
Technology
Customers are also sure to find some stunning technology throughout the new Volkswagen ID.4. This includes a high-resolution infotainment center that can be controlled with a touch of your finger. Measuring up to 12 inches, this beautiful display will amaze any driver or passenger that sits inside the new ID.4.
If you are looking to stay connected while on the go, this is the VW for you. The new Volkswagen ID.4 offers a range of features to enhance your commute, including Apple CarPlay and Android Auto. Either of these can be utilized wirelessly so that you can keep your cabin clear of messy chords.
Safety Features
Volkswagen is always looking to make its models more secure. You can expect that peace of mind inside this new ID.4 as well. Whether you are driving through busy streets or on crowded highways, you can trust this SUV to keep you secure.
Some of the standard and available safety features inside the new Volkswagen ID.4 include:
Adaptive Cruise Control
Active Blind Spot Monitoring
Rear Traffic Alert
Learn More About the New VW ID.4 in Honolulu
We encourage shoppers to visit our dealership soon and experience the new Volkswagen ID.4. Our professionals can show you all the perks this model brings to the table and get you in it for a test drive. As soon as you feel the immense quality of this new Volkswagen, you will want to take it home. We look forward to working with you soon.